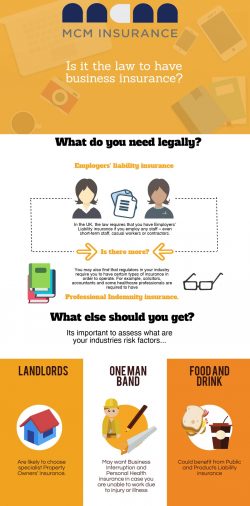 Is it the Law to have Business Insurance?
Whether you're setting up your own business or have been running one for a while, the subject of business insurance can be fraught. How do you find out the vital information of which policies are a must? Which extra covers are worth your hard-earned money and which are a complete waste.
Is it the law?
Whether or not you need insurance relies upon your regulatory body and the type of work your business conducts.
What do I need?
In the UK, the law requires that you have Employers' Liability insurance if you employ any staff – even short-term staff, contractors, or casual staff.
You may also find that regulators in your industry require you to have certain types of insurance to operate. For example, solicitors, accountants, and some healthcare professionals are required to have Professional Indemnity insurance.
What else should I get?
Taking other insurance policies can be a sensible and structured precaution, covering you from any potential mistakes, damages, theft, mistakes and even the costs of fighting drawn out legal cases. It is pivotal to consider any possible things which could go wrong and how they may affect your personal finances if you are not insured.
Different industries have varied high risk areas. For example, Landlords are likely to choose a specialist Property Owners' insurance policy, in comparison a food and drink business could benefit from a Public and Products Liability cover policy. If you operate a business premises, Office insurance, or a dedicated policy for your industry's workspace, is a good idea in case of accidents and emergencies, and any occurrence which may cause damage to the contents of said office.
The best way to know the requirements of your business is to talk to MCM on 0161 786 3160. We aim to get to know the specifics of you and your business before recommending a policy to cover all eventualities.