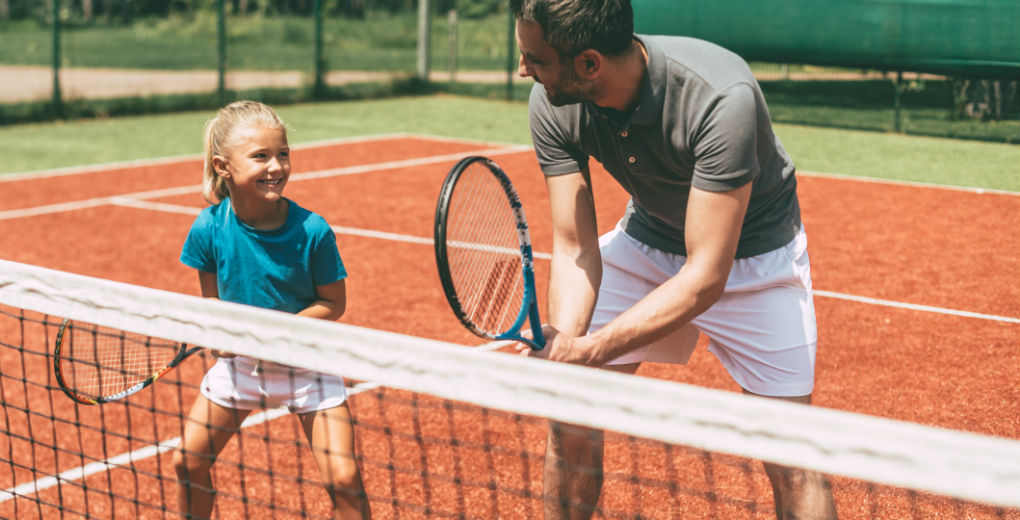 In full swing: Getting kids active at Wimbledon 2018
Tennis: A rich sport
One of the major criticisms of tennis is the exclusivity that surrounds it in comparison to other sports such as football and rugby. Long considered a 'rich sport' due to the many private tennis clubs and associations dotted around the country, the sport's chief organisations are striving to make the sport more accessible to all.
Perhaps one of the concerns facing tennis is the fragility of recognition in the sport. Whilst the elite stars are idolised at the top of the rankings, little focus is put on the large underbelly of professional tennis players, despite the hard work they put in. Perhaps young people feel discouraged by this and are more enchanted with team sports where they have more opportunity to reach a professional level.
The sense of elitism and snobbery swells most in the tennis calendar during Wimbledon, which is probably to do with the miraculous history of the championships, and factored in by celebrity presence on Centre Court. Wimbledon, then, seems a far sight from home for children who aren't from wealthy backgrounds.
But are things changing?
When Andy Murray dispelled a 77 year wait for a British player to win the men's Wimbledon championship back in 2013, the Lawn Tennis Association (LTA) and other organisations were sure they would see a considerable surge in tennis participation in young people. Disappointingly, statistics showed that numbers waned since Murray's victory. However, following Britain's triumph in the 2015 Davis Cup, the LTA has been tremendously active in its funding of grassroots tennis.
In 2016, the LTA launched the Tennis for Kids Initiative (TKI), aimed towards children at a young age and has since been opening up to reach a broader age range of children. For just £25, children can enjoy 6 high-quality tennis sessions conducted by a trained specialist to hone their skills from a young age. Children even receive free rackets and balls. With 98% of parents happy with their child's experience thus far, the campaign shows signs of continuous growth in child participation. In 2017, the LTA then launched the Great British Tennis Weekend (GBTW) which looked to entice whole families to get involved in tennis with free weekends and equipment provided. Transforming British Tennis Together is another successful scheme from the LTA that is still active.
More than £250m has been injected into the campaigns which show there is an eagerness and desire to get involved if the infrastructure is there. Last year, the LTA said 131,019 more people played tennis in June 2017 than in June 2016, a direct consequence, no doubt, to these get-involved schemes. Other organisations such as the Tennis Foundation and the All England Lawn Tennis Club have also taken part in campaigns and events to further encourage child participation.
But what does all this mean for the sport?
Well, the agenda is to make tennis accessible, first and foremost. If children take a keen interest in the sport at a young age or show a particular aptitude for it, they're almost certainly more likely to want to play. Since many tennis clubs and associations operate as a community facility, not a business, more and more children can enjoy free and discounted membership to hone their raw talent.
The rise of Kyle Edmund may further increase child participation in tennis. Certainly, seasoned stars such as Roger Federer and Rafael Nadal garner high viewing figures which, in turn, equate to more people playing tennis, though accurate figures are hard to establish. What is clear, however, is that the efforts made by the LTA and other organisations can't come soon enough for the sport. Even if from every hundred children that try tennis for the first time, only a dozen or so actively seek further participation, it's still encouraging and much-needed for the sport.
Crucial to the rise of these could-be stars is the role tennis clubs and associations play. Many tennis clubs now operate as a community facility, not a business. With children often able to become members for free or at vastly discounted rates, it's now easier than ever for children to play tennis regularly. Many communities have been aided by a huge fleet of volunteers in order to encourage children from ages as young as 4 to get involved. There's also a push to get children with disabilities involved in the sport, again prompted by the work put in by volunteers at a grassroots level. There's a real sense of purpose in the work organised by the LTA, and with any further British success at Wimbledon or any one of the majors throughout the calendar year, the campaign to get more children involved in tennis shouldn't lose traction.
If you run or own a tennis club or association, or a sports club in general, there are several insurance options available to protect you from the many risks such an endeavour brings. Please contact us on 0161 7863160 for all insurance related enquiries.