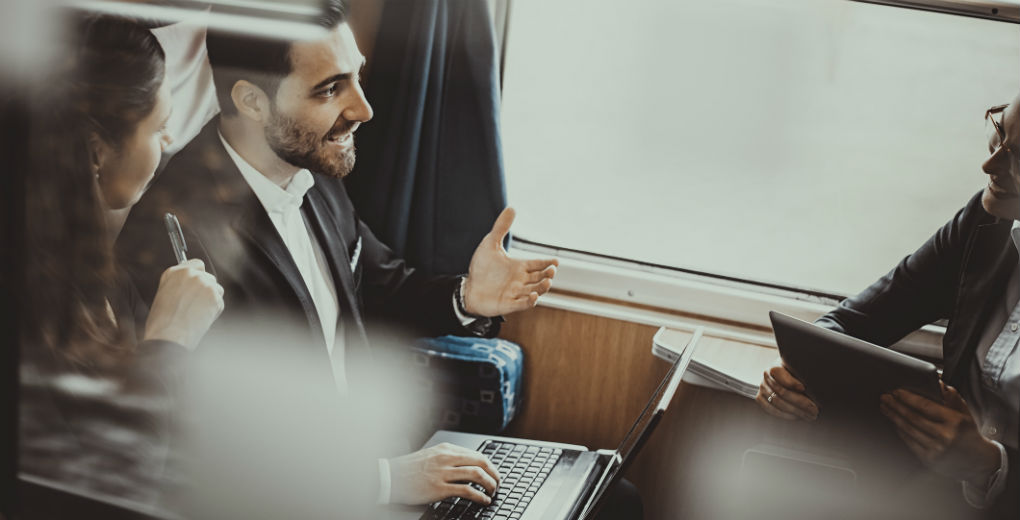 How to work productively while travelling
Travelling for work can be a costly inconvenience, eating into employee time which could be spent working. But with a little preparation, time spent travelling between meetings can be just as productive as office hours….
Plan your Wi-Fi access
Accessing the internet is key to being travel productive, so research where and when you'll be able to log on. First-class train carriages often provide free Wi-Fi, with train providers also offering paid access – remember hotels and coffee shops can be great places to access Wi-Fi while you wait for connections. You could also tether other devices to your mobile for a secure connection using your phone's network data.
Always take advantage of charging points
Seated next to a plug on the train? Even if your phone or laptop is on 70% battery, make the most to ensure you don't run out of juice during a meeting – or when it turns out your seat on the next train is not so fortunate. It's always worth bringing rechargeable battery packs as well, to ensure you can always keep working.
Use the cloud
So you're not in the office with your colleagues. It doesn't mean you can't communicate – or collaborate. Just as easy as sending an email, Office 365 and Google Docs allow multiple parties to edit uploaded documents with tracked changes. Storing data on cloud platforms such as Dropbox reduces the need for memory sticks and hard drives, and gives you access to any document at any time.
Make it easy for people to contact you
Missed calls might be the most irritating aspect of being "out of office". Setting up a call divert system means other staff can take office calls for you, while re-recording your voicemail with accurate information on your whereabouts avoids frustrations. You should also add your mobile number to your automated email reply, and be as specific as possible about how quickly you will be able to respond.
Are your employees insured while travelling on business?
Covering everything from personal injuries and lost laptops to delayed flights, tailored Business Travel insurance can provide vital protection for you and your business. Get in touch to find out how you could benefit.