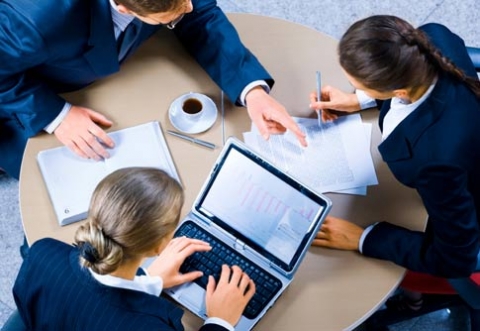 Business Insurance for the Self Employed
The UK has seen a huge growth in the number of small businesses in the last few years. The motivation to start a new business and go it alone may stem from a variety of reasons from fulfilling a dream, accommodating a change in family circumstances, a desire to take charge of the future or redundancy. Easy access to the internet and the growing popularity of doing business online has further driven growth in a variety of sectors.
Why insuring your business is good business
Each new venture may or may not require external financial investment however, along with a good business plan, making sure you have the right level of business insurance is imperative.
Every business has inherent risks, and business insurance plays a key role in risk management.  Contrary to what many believe, business insurance is not the sole preserve of  large corporations. From running a home internet business, to making clothes alterations, gardening or paranormal investigations, if you enter a commercial relationship with a third party, your legal status is equal to the Microsoft's and L'Oreal's of this world.
Get insurance quotes for your small business now.
One mistake could sink a small business
Smaller businesses are particularly vulnerable to a wide range of risks and the costs of dealing with these unforeseen problems can quickly cripple a small operation.
If an employee is injured while at work, or a member of the public slips and falls on your premises, or if you simply make a mistake when providing a client with advice, the resulting bill for damages and legal costs could be more than enough to sink a business.
Many small business owners plough their life's savings into their new venture and for this reason alone would benefit from the security that business insurance can bring. It is worth remembering that in the majority of instances, personal and home insurance policies will not cover your business activities.
Business insurance can keep you in business
There other reasons why insuring your small business properly makes a lot of commercial sense:
Some banks make business insurance a mandatory requirement in order to protect small business loans and payments.
Some types of policy will help you resolve problems before your client is even aware that any problem exists.
You can also protect your business' turnover should you something happen which affects your ability to trade
There are a range of business insurance policies to cover all of these types of events and many more, so what does your business need? There are three business insurance policies that are a must for most small businesses:
Public Liability
Employers' Liability and
Professional Indemnity Insurance.
Below is a simple insurance guide to each of these types of cover from MCM Insurance.
Public Liability Insurance
If your customers, clients or members of the public visit your business premises, including a home office, then it is well worth considering public liability insurance. This type of policy will protect your business should you be sued by a third party for a personal injury or damage to their property, incurred as a result of your business activities.  The policy will cover the costs of damages awarded against you as well as the legal costs of defending the claim.
The amount of cover you need will depend on the nature and size of your business, and the scope of your activities, but most small businesses will have at least £1m of cover.  This may sound a lot, but premiums are not high and it is easy to underestimate the amount of cover you require.  Litigation rates are on the rise, and if you suddenly have several claims against you, the costs can mount up.
Public liability insurance is not compulsory however you may find that clients or customers  ask for proof of such insurance prior to engaging your services.
Employers Liability Insurance
Employers Liability insurance became a legal requirement in 1972 as a direct result of the Employers Liability (Compulsory Insurance) Act 1969. If you are visited by the Health and Safety Executive they will request your certificate of Employers Liability Insurance. If you are unable to produce a certificate for them they can fine you £1000 and they can fine your business £2,500 for every day you are without suitable insurance.
The health and safety of employees whilst at work is the responsibility of each and every employer. There is a chance that your employees may be injured at work, or that they, or your former employees, may become ill as a result of their work while in your employment. As a result of this, your current or past employees might try to claim compensation from you if they believe you are responsible.  Over the past decade there has been a huge increase in litigation and record-breaking court awards and an Employers' liability insurance policy will enable you to meet the cost of such claims.
Employers in the UK must be insured for at least £5m however each employer should carefully review their circumstances and assess whether they need to increase this limit of cover to £10m. Again, this sounds a lot, but the premiums are relatively cheap.
Once you have bought an Employers Liability policy, your insurer will issue you with a certificate which clearly states your minimum level of cover and the full name of the company or companies insured. It is a legal requirement for employers to display this certificate where employees can have reasonable access to it. Since 1st October 2008, the law allows employers to display this certificate electronically.
Professional Indemnity Insurance
If your business activities involve the sale of your skills or knowledge, especially in the form of advice, you should consider buying Professional Indemnity insurance. Even the most respectable companies can find themselves in dispute with a client over a mistake. In the event that a claim is made against you, this type of policy will cover legal costs and compensation. Some policies will even help you to rectify a mistake before it comes to the attention of your client thus protecting your reputation and avoiding litigation.
When deciding on the amount of Professional Indemnity cover to have you should consider the value of the work you are doing for your clients and the potential financial impact on them should it go wrong.  Other than that, it's advisable to buy as much cover as you can afford.
You may find that your client requires you to have cover in place before you can work with them. Many UK government departments will, for example, require their contractors and consultants to have at least £5 million of cover.
It is also worth considering taking 'retroactive' cover for work that you've done previously. This means that your Professional Indemnity insurance policy will cover you for any claims arising out of work you completed in the past. You will be given the option of taking out retroactive cover when you get your professional indemnity insurance quote.
Professional Indemnity insurance is favoured by the majority of professionals ranging from architects to consultants, from advertising to PR executives. Professional Indemnity insurance for accountants, lawyers and financial advisers is however mandatory.
Arranging your small business insurance should be quick and simple, giving you the confidence and freedom to focus on what matters most – your business activities. Users of the MCM Insurance website service can compare prices from the UK's leading insurance providers. Simply enter your details, specifying your trade and individual requirements, and MCM then does the rest, searching the market for the  cheapest quotes within seconds.
Get a range of quotes for your small business now.