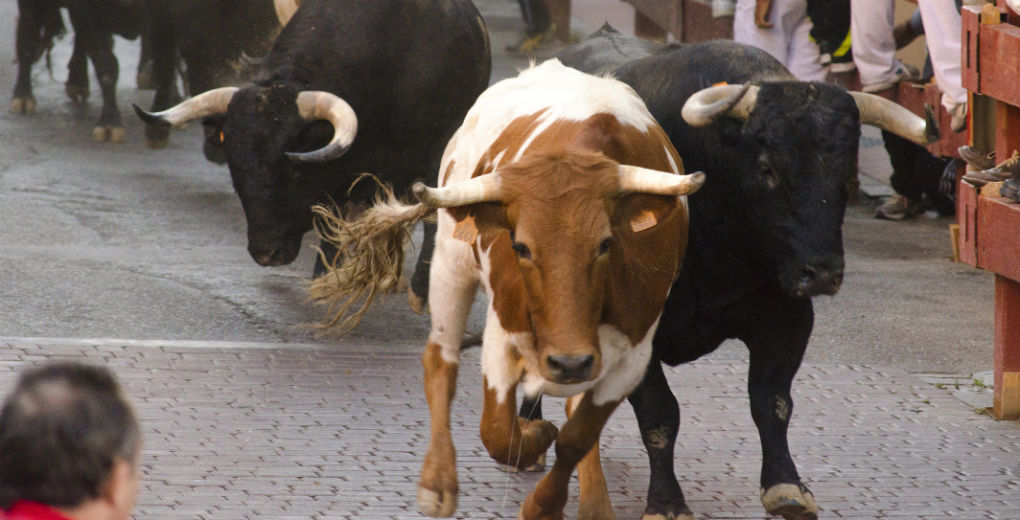 10 bizarre festivals from around the world
Encouraging revellers to organize mass simultaneous pillow fights in cities around the world, annual International Pillow Fight Day takes place on 7th April 2018.
Though feathers are flying in the name of good fun, massive pillow fights aren't without their health and safety hazards. In 2015, 30 students were injured at West Point military academy's annual first-year pillow fight. 24 people suffered concussions while other injuries including broken noses and dislocated shoulders required medical attention.
Here are 10 other potentially perilous traditions and festivals from around the world, all held in the name of a good time…
Pamplona Bull Run
The annual Running of the Bulls sees revellers running in front of a group of cattle through the cobblestone streets of Pamplona. Held during the eight-day San Fermín Festival, the event is regularly accused of animal cruelty, as well as responsible for hundreds of hospitalisations every year.
Cheese Rolling
The notorious annual English tradition of Cheese Rolling takes place in the Gloucestershire village of Brockworth. Competitors chase an 8lb double Gloucester cheese down a very steep hill, breaking bones – and health and safety rules – with aplomb.
Cheung Chau Bun Festival
Held in Cheung Chau Island, a ferry ride from Hong Kong, this one-of-a-kind festival is characterized by iconic 60-footbamboo mountains covered with handmade buns. At midnight, a dozen participants climb up the structure and scramble to grab as many lucky buns as possible in three minutes.
Boryeong Mud Festival
Exactly as messy as it sounds, this South Korean festival features mud-wrestling, mud-swimming and even mud fireworks. The area is known for its mineral-rich mud, often used in cosmetics.
Competitive Eating
Competitions of this type are particularly popular in the USA – and the health concerns need not be overstated. Major League Eating, the body which oversees professional eating contests, insists on the presence of emergency medical technicians at every event.
Baby Jumping Fiesta
In Castilla de Murcia, Spain, a terrifying traditional festival game sees competitors jump over babies lying on blankets. Known as El Salto del Colacho – or The Devil's Jump – the tradition is said to cleanse the babies of original sin and ensure safe passage through life.
La Tomatina
This messy Spanish festival is famous for its mass tomato fight in the streets of the Valencian town of Bunol. Held on the last Wednesday of August, it's not to be missed.
The Battle of Oranges
The people of Ivrea, Italy, have a novel approach to historic reenactment with this fruity fight – recreating the 1194 revolt against the king using oranges in place of weapons.
World Toe Wrestling Championships
The wonderful world of Toe Wrestling takes place in Ashbourne, Derbyshire. Lock toes with a stranger and wrestle until someone's foot touches the side of the "toedium".
The Songkran festival
One of Thailand's most famous events, this water festival marks the beginning of the traditional Thai New Year. Expect to be ambushed by water guns, buckets and generally get a soaking.
Organising something a little less hazardous? Protect your event with tailored insurance from MCM Insurance, just give us a call today on 0161 786 3160!